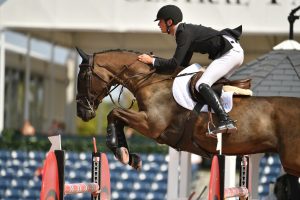 Over the previous decade, Ashland Farms has developed a reputation for providing amateurs and professionals some the finest horses and ponies in North America and have been successful in establishing a proven track record of championships and achievements at the highest level of competition.
During the last three years, Ken and Emily Smith have begun to focus more on jumpers while continuing to offer an outstanding collection of world-class hunters.
Ashland Farms stands behind the horses they offer and are ready to help our clients find a horse that matches their needs.
HORSES AVAILABLE FOR SALE:
EQUITATION HORSES
BECKHAM JR – 2010 Equitation Gelding
[list type="play_alt"]
[/list]
BALLENDRO – 2010 Equitation Gelding
[list type="play_alt"]
[/list]
COCKTAIL – 2010 Equitation Gelding
[list type="play_alt"]
[/list]
EVEN KEEL – 2009 Equitation Gelding
[list type="play_alt"]
[/list]
WHACHUMEAN
[list type="play_alt"]
[/list]
KINGSTON – 2010 Equitation Gelding
[list type="play_alt"]
[/list]
DA VINCI – 2002 Gelding
[list type="play_alt"]
Video of Vinci:  Video Coming
[/list]
DANTE – 2008 Equitation Mare
[list type="play_alt"]
[/list]
YOU WISH – 2006 Equitation Gelding
[list type="play_alt"]
[/list]
FEDELIO – 2000 Equitation Gelding
[list type="play_alt"]
[/list]
HENNESSEY
[list type="play_alt"]
[/list]
SKARA GLEN'S PROLOGUE – 2007 EQ GELDING
[list type="play_alt"]
[/list]
HUNTERS
PHOTOSHOOT – 2003 Hunter Gelding
[list type="play_alt"]
[/list]
PREMIUM BLEND – 2009 Hunter Gelding
[list type="play_alt"]
[/list]
ORLANDO – 2011 Hunter Gelding
[list type="play_alt"]
[/list]
CANTOLETTO – 2010 Hunter Gelding
[list type="play_alt"]
[/list]
ECLYPSE
[list type="play_alt"]
[/list]
PHANTOM – 2008 HUNTER GELDING
[list type="play_alt"]
[/list]
BARADOUZ – 2007 HUNTER DERBY GELDING
[list type="play_alt"]
[/list]
JUMPERS
C. SERENDIPITY
[list type="play_alt"]
Video of C. Serendipity:  Video Coming Soon
[/list]
ALL ABOUT ANJES – 2001 Jumper Mare
[list type="play_alt"]
[/list]
S.I.E.C LEDGEPOINT – 2001 Jumper Gelding
[list type="play_alt"]
[/list]
CAVALIER KNIGHT – 1999 Jumper Gelding
[list type="play_alt"]
[/list]
SKARA GLEN'S BASEL – 2002 Jumper Gelding
[list type="play_alt"]
[/list]
DA VINCI – 2002 Jumper Gelding
[list type="play_alt"]
[/list]
PONIES
HILLCREST COUNTRY LADY – Aged and experienced medium pony ready for short stirrup to childrens pony
[list type="play_alt"]
Video of Hillcrest Country Lady: Coming Soon
[/list]
RECENTLY SOLD / LEASED:
CANDOR – 2009 Hunter Gelding – (LEASED)
[list type="play_alt"]
[/list]
BARADOUZ – 2007 Quality EQ ro Huter Derby Gelding – (LEASED)
[list type="play_alt"]
[/list]
ZELANO – 2004 Equitation Gelding – (LEASED)
[list type="play_alt"]
[/list]
COCOLUXE – 2008 Equitation Gelding – (SOLD)
[list type="play_alt"]
[/list]
C'EST BLUE – (LEASED)
[list type="play_alt"]
[/list]
WATCHUMEAN – EQ MARE – (LEASED)
[list type="play_alt"]
[/list]
AIRBORNE – EQ & Hunter Gelding – (LEASED)
[list type="play_alt"]
[/list]
CAVALIER KNIGHT – (LEASED)
[list type="play_alt"]
[/list]
CENSUS – 2008 Hunter Gelding – (SOLD)
[list type="play_alt"]
[/list]
DAVINCI – (LEASED)
[list type="play_alt"]
[/list]
BACHARANTA – 2007 High Junior/Amateur Mare (SOLD)
[list type="play_alt"]
[/list]
NARCOS – 2006 Equitation Gelding (SOLD)
[list type="play_alt"]
[/list]
CONTANO – 2009 Equitation Gelding (SOLD)
[list type="play_alt"]
[/list]
TRUMP – 2008 Hunter Gelding (LEASED)
[list type="play_alt"]
[/list]
HENNESSY – 2007 Equitation Gelding
[list type="play_alt"]
[/list]
MIND YOUR STEP – 2001 Medium Pony, Real Confidence Builder – (LEASED)
[list type="play_alt"]
[/list]
SHOWTEK – 2007 Equitation/Hunter Gelding – (SOLD)
[list type="play_alt"]
[/list]
BLUESTONE – 2006 Equitation/Hunter Gelding – (SOLD)
[list type="play_alt"]
[/list]
BEAU VAN HET KEYSERHOF – 2004 Equitation Gelding – (SOLD)
[list type="play_alt"]
[/list]
MARABELLA – 2004 Hunter Mare – (LEASED)
[list type="play_alt"]
[/list]
STALLONE – 2001 Hunter Gelding – (LEASED)
[list type="play_alt"]
[/list]
NO RESERVATIONS – 2009 Hunter Gelding – (SOLD)
[list type="play_alt"]
[/list]
PHOTOSHOOT – 2003 Hunter Gelding – (LEASED)
[list type="play_alt"]
[/list]
SANTINO – 2007 Hunter Stallion – (SOLD)
[list type="play_alt"]
[/list]
CAVALIER KNIGHT – 2000 Medium Junior/Amateur Gelding – (LEASED)
[list type="play_alt"]
[/list]
NEVADA – 2004 Hight Junior/Amateur Gelding – (SOLD)
[list type="play_alt"]
[/list]
SUNDAY SNEAKERS – (LEASED)