Facility
The Ashland Farms is now based in Lexington, Kentucky, Known as the "Horse Capital of the World".
Under trainers Ken and Emily Smith, Ashland Farms has developed into one of North America's top sales farms, while coaching their clients to a number of national titles.
During the winter months from January to April, Ashland Farms transitions the majority of its horses to on-site stabling at the show grounds.
Boarders at Ashland Farms benefit from a number of amenities including: full service experienced staff, a dedicated stable manager, coaching and training by Ken and Emily Smith, full hunter and jumper courses all within a breathtaking setting. We invite you to schedule an appointment with our stable manager to tour our facilities.

Ken & Emily Smith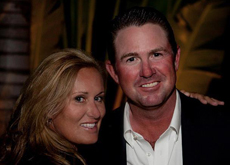 Ashland Farms was founded in the early nineties by Ken and Emily Smith who operate their facility out of the Equestrian community of Wellington, Florida., for 11 years.
Both trainers used to work for Howard Lewis in Gates Mills at the Chagrin Valley Hunt Club before launching Ashland Farms in 1993.
The couple has been based out of their current facility on Palm Beach Point Boulevard for the past two years and are a fixture within the North American Show circuit.